Equip the Saints – Webinar for Parish Leadership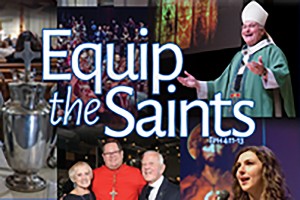 Thursday, May 18 at 7:00pm, Archbishop Mancini will offer a webinar to launch our Archdiocesan pastoral plan, Equip the Saints. The presentation is specifically for parish leadership. Please note that parish leadership can take part in the webinar wherever they have internet access; be it individually or gathered as a group in one location. Parish leadership must register to receive the link to the webinar. Please register here.
Archbishop Mancini also wants to meet with parishioners in general and share the pastoral plan. These Equip the Saints Gatherings will happen across our diocese in the coming weeks. Be sure to take note of the location near you and join Archbishop Mancini to hear more about how together we can equip the saints!
Saint Ambrose, Yarmouth – Thursday, May 25
Saint Ambrose, Yarmouth – Friday, May 26 (en français)
Saint Benedict Parish, Halifax – Thursday, June 1
Immaculate Conception, Truro – Monday, June 5
Saint Thomas More, Dartmouth - Tuesday, June 6
Saint Joseph, Kentville – Thursday, June 8