November 19: World Day of the Poor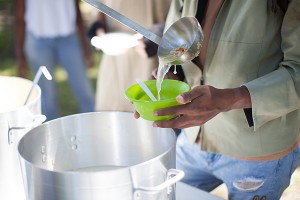 Pope Francis has designated November 19 the first ever World Day of the Poor. As Catholics we are called to care for the poor and marginalized. The Holy Father has made this preferential option for the poor a hallmark of his pontificate. Earlier this fall Archbishop Mancini invited our pastors to mark the World Day of the Poor in some intentional way. In his letter, Archbishop Mancini wrote:
This World Day of the Poor is to take place on November 19, 2017, the 33rd Sunday in Ordinary Time. I would like for all our parishes to take time to reflect on the Holy Father's words and to highlight what and how each of our parishes are attending to the needs of the poor.
In each parish, it would be appropriate on this day, to highlight the parish's ministry to the material poor but also to raise awareness and even expand the vision of who the poor in our midst really are. Poverty has many faces and it is a mark of our Christian engagement to be able to recognize the many faces of poverty.
Please pray for the poor in your parish on November 19th during the prayers of the faithful and if during the week preceding the 19th, you can take up the challenge of the preferential option for the poor in any concreate way, do not hesitate to "hear the cry f the poor" and respond to it.
All are invited to commemorate this first World Day of the Poor be it individually or communally in your parish. To read Pope Francis' message for the world Day of the Poor click here