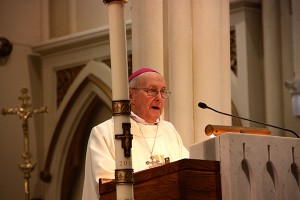 HAYES, Most Reverend James Martin, Archbishop Emeritus of Halifax, died on August 2nd, 2016 in the Halifax Infirmary at the age of 92.
Born in Halifax in 1924, the eldest son of the late Leonard James and Rita (Bates) Hayes, he received his education at St. Thomas Aquinas School, St. Mary's High School, St. Mary's College, and in 1943 entered Holy Heart Seminary. He was ordained to the priesthood by Archbishop McNally on June 15, 1947.
Father Hayes' first pastoral assignment was as a curate at St. Mary's Cathedral. It was at this time that he became a regular visitor at the hospitals, bringing the sacraments to those who were ill and accompanying them and their families with prayer.