Archbishop Mancini returns from Ad Limina Visit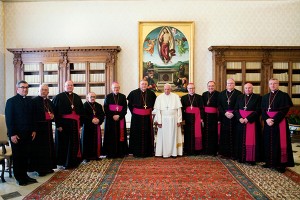 This week we welcome home Archbishop Mancini from his ad limina visit with Pope Francis. Are you curious as to what he did while in Rome? Maybe you'd be curious to know what he and his brother bishops from Atlantic Canada spoke about with the Holy Father?
Tomorrow night, Wednesday, March 29, Archbishop Mancini will sit down with Steve Murphy, CTV News at Six and share his experience of his most recent visit to the Vatican. Tune in!
The visit of the Atlantic Bishops to the Vatican was covered by various media outlets. Some of that coverage you can see here:
Catholic Register : Atlantic Bishops experience pastoral Pope on ad limina pilgrimage
Catholic News Service : video
Archbishop Mancini at the Discastery on Laity, Life & Family: video
In the coming months Archbishop Mancini's brother bishops in the various regions of Canada will make their ad limina visit with the Holy Father. Let us pray for all the bishops, that God will continue to bless and guide the leaders of the Church in Canada as they shepherd the faithful across our country.